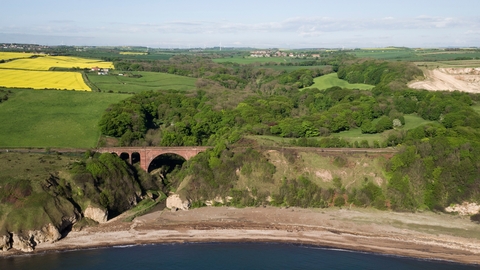 The second largest coastal Dene in the county, consisting of relatively unspoilt ancient woodland and species rich limestone hay meadows
Know before you go
Grazing animals
No
Walking trails
Access
Terrain: Moderate
Mixed terrain with a surfaced pathway around the top but some steep steps as you descend through the Dene. Muddy at times.
Access and Parking
The reserve is between Easington and Seaham on the Durham coast. From the junction with B1432, 1km south of Cold Hesleden, head east until the end of surfaced road and park in lay-bys adjacent to modern bungalow. Follow the track through the gate for approximately 350m before turning right onto the nature trail into the wood.
Public Transport
There is a regular bus service from Durham to Hawthorn.
When to visit
Opening times
Open at all times
Best time to visit
April to July
About the reserve
Hawthorn Dene is a steep-sided ravine that cuts through the magnesian limestone of the Durham Coast.
The woodland that developed within the dene is characteristic of the area and includes lime loving species such as elm, ash and large numbers of mature native yew on the northern slopes.
Snowdrops, wild garlic and bluebells carpet the woodland floor from Spring and uncommon species such as bird's-nest orchid and herb Paris can also be found. There are a wide range of woodland birds including jay, treecreeper and great spotted woodpecker and roe deer are regularly seen.
What makes Hawthorn Dene such a special place is that it offers much more than woodland. Within the dene is a species rich magnesian limestone meadow on the site of Hawthorn Towers, once owned by the Pemberton family before falling into disrepair and finally being demolished in 1969.
The remains of the private railway platform that served the house can still be seen. The Dene itself stretches down to the sea, opening out under an impressive railway viaduct onto Hawthorn Hive, with cliffs and rocky shore. Hawthorn Dene definitely provides something to see at any time of the year.
At the coast visitors can follow the coastal path northwards towards Seaham, or south to Beacon Hill and onwards down the Durham Heritage Coast. Keen walkers can head Trust's Blackhall Rocks reserve.
Species
Habitat
Environmental designation
Ancient Woodland
Site of Special Scientific Interest (SSSI)