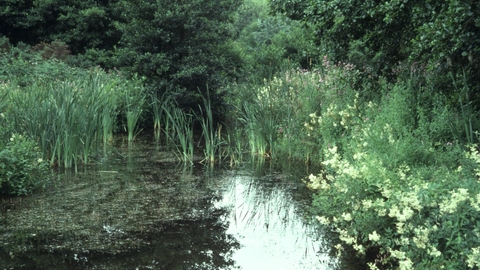 A deep, freshwater site; an excellent place for birdwatching
Know before you go
Grazing animals
No
Walking trails
Access
Terrain: Easy
Good access with new, raised boardwalk around the pond suitable for all mobilities.
Access and Parking
1 mile south-west of Houghton-le-Spring, west from the A690. From the B1284 between Chilton Moor and Great Lumley, follow Mallard Way to the Rainton Meadows visitor centre car park. The reserve gates are open from 9am-4.30pm (Mon- Sun). Leave car park and follow footpath signs to Joes Pond, 180m to the east.
Public Transport
Sunderland/Durham buses stop at Rainton Bridge Business Park leaving a short walk to the reserve with several waymarked footpaths.
When to visit
Opening times
Nearby Rainton Meadows visitor centre open 7 days a week, 10am to 4pm
Best time to visit
March to July, July to September
About the reserve
A flooded clay pit which was taken over from the Coal Board, now a Site of Special Scientific Interest.
Joe's Pond is a flooded clay pit that was taken over from the Coal Board by local man Joe Wilson – hence the name. The Trust took over management of the reserve from Joe and the pond is now a Site of Special Scientific Interest.
Immediately adjacent to Durham Wildlife Trust's Rainton Meadows site, the pond is relatively deep and fringed with reed swamp and areas of herb rich fen – ideal habitat for a wide range of invertebrates, from water scorpions to dragonflies.
Woodland and scrub surround the site, which adds to the bird interest seen year round on the pond itself.
A total of 140 species of bird have been recorded on and around Joe's Pond. There are also small areas of flower rich grassland so there is something to see year round
The site is well served with footpaths and boardwalks providing excellent access for all, including wheelchairs and buggies. The Rainton Meadows visitor centre is a short walk away providing toilet facilities and refreshments.
Environmental designation
Site of Special Scientific Interest (SSSI)