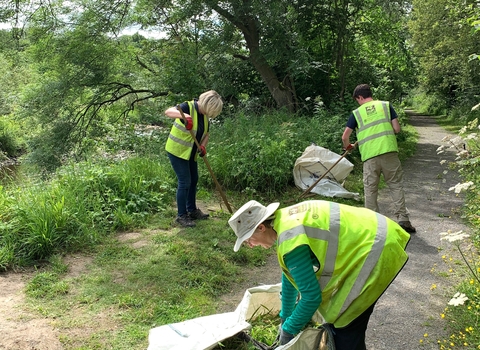 Volunteer for wildlife
Durham Wildlife Trust has lots of exciting opportunities for volunteering. We are always looking for willing volunteers who share our passion for wildlife, conservation and broadening awareness.  As a volunteer you can play an integral role in what we do, it is also a wonderful way to socialise and become part of an invaluable team.
If you have any questions you can ring us on 0191 584 3112 or email volunteer@durhamwt.co.uk and we can talk you through the different roles that we have available.
Events and Education Volunteering
Practical Volunteering
Site Warden Volunteer

Bring your passion for wildlife and conservation and join our volunteer team at Durham Wildlife Trust as a Volunteer Reserve Warden. Read the role description below.
Task Force Volunteer

As a Trust Task Force Volunteer at Durham Wildlife Trust you will get involved in practical habitat management. Find out more in the full role description.
Task Volunteer – Heart of Durham

The Heart of Durham Project is a partnership organisation with Northumbrian Water. Bring your passion for wildlife and conservation and join our volunteer team. Click on the link below for the full role description.
Pony Warden Volunteer

Our Exmoor ponies are the most valuable members of our conservation team. Our pony wardens support us by regularly checking in on the ponies and reporting any problems - full details are in the below role description. 
Water Vole Survey Volunteer

As a Water Vole Survey Volunteer, you will have the opportunity to take part in group surveys, led by the Naturally Native Project Officer and more independent surveys where you and a partner will be assigned a water course to survey, in an area you have selected. Read the full role description by clicking the link below.
Healing Nature Conservation Trainee (x4)

A paid six-month traineeship with Durham Wildlife Trust.  The role will deliver habitat management work on local wildlife sites and support community engagement events and activities.  Full training will be provided to help successful applicants gain necessary skills and knowledge for a career in conservation and land management. 

These positions are funded through the Government's Kickstart programme which aims to prevent young people who are currently unemployed from facing long-term unemployment.  To be eligible, applicants must be between 18 and 24 and claiming Universal Credit. 

Applications can be made via the Job Centre, please quote reference GNEC51 to your Work Coach.  No experience is necessary, just enthusiasm and a desire to create better spaces for wildlife and people.
Please note: volunteers must be over 18 years old or over, or accompanied by parent /guardian if under 18 years.
Why volunteer with us?
Our volunteers play such an important part in our work at Durham Wildlife Trust.
We have a lovely volunteering culture and we really value feedback from our volunteers so we can improve and learn.
Volunteer Forum
Our volunteer Forum meet quarterly and discuss all sorts of issues, including planning volunteer celebrations, celebrating highlights, finding out about new projects and discussing anything that interests our volunteers.
Volunteer Development Group
This is a group of volunteers who have put themselves forward to help Durham Wildlife Trust to shape best practice in volunteer retention and recruiment. Helping us to improve our volunteer experience and make the most of opportunities with volunteers.