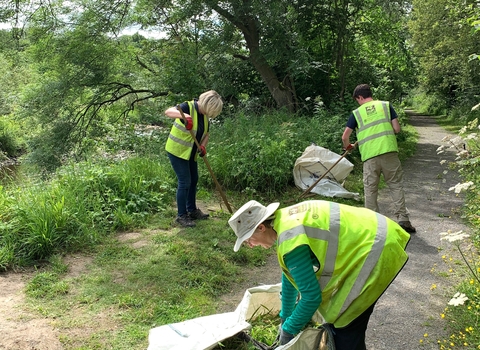 Volunteer for wildlife
Durham Wildlife Trust has lots of exciting opportunities for volunteering. We are always looking for willing volunteers who share our passion for wildlife, conservation and broadening awareness.  As a volunteer you can play an integral role in what we do, it is also a wonderful way to socialise and become part of an invaluable team.
If you have any questions you can ring us on 0191 584 3112 or email volunteer@durhamwt.co.uk and we can talk you through the different roles that we have available.
Covid-19
Thank you for your interest in volunteering with Durham Wildlife Trust. Volunteering on sites will resume in limited group sizes from 29th March, in line with Covid-19 guidelines. We plan to restart recruitment for new task volunteers from 1st June 2021.
Events and Education Volunteering
Practical Volunteering
Please note: volunteers must be over 18 years old or over, or accompanied by parent /guardian if under 18 years.
Why volunteer with us?
Our volunteers play such an important part in our work at Durham Wildlife Trust.
We have a lovely volunteering culture and we really value feedback from our volunteers so we can improve and learn.
Volunteer Forum
Our volunteer Forum meet quarterly and discuss all sorts of issues, including planning volunteer celebrations, celebrating highlights, finding out about new projects and discussing anything that interests our volunteers.
Volunteer Development Group
This is a group of volunteers who have put themselves forward to help Durham Wildlife Trust to shape best practice in volunteer retention and recruiment. Helping us to improve our volunteer experience and make the most of opportunities with volunteers.