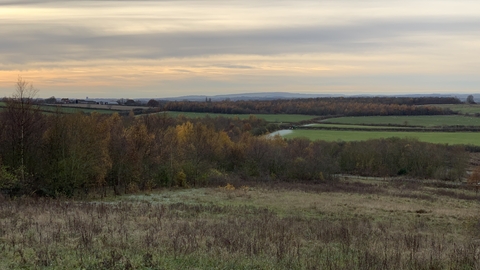 A good birdwatching site with over 200 species of birds
Know before you go
Grazing animals
Yes - during winter months
Walking trails
Access
Terrain: Easy
The reserve has mixed terrain with a number of level surfaced pathways with a moderate slope up to the highest point offering fabulous views across the site and beyond. There are also three nature trails (heron, shrew and dragonfly) and walking routes with interactive rubbing posts for children available from the summer of 2014.
Access and Parking
Situated midway between Durham and Sunderland just off the A690. Follow the brown signs for Rainton Meadows just south of Houghton-le-Spring or alternatively leave the A1(M) at Chester-le-Street and head west on the A183/A1052. The reserve gates are open from 9.30am – 4.30pm, Mon – Sun. The coffee shop is open 10am – 4pm every day. Access is available to the visitor centre for wheelchair users with disabled toilets. Access is also available to the lakeshore and bird hide via surfaced level footpaths.
Entrance to the reserve is free but we suggest a donation of £2.50 for parking for non-Durham Wildlife Trust members.
Public Transport
Sunderland/Durham buses stop at Rainton Bridge Business Park leaving a short walk to the reserve with several waymarked footpaths.
When to visit
Opening times
Reserve accessible 24/7/365, with vehicle access from 9.30am - 4.30pm each day. Visitor centre open 10am-4pm seven days a week.
Best time to visit
March to July, June to September
About the reserve
Rainton Meadows was created by the restoration of the Rye Hill Opencast coal mine in 1996 by UK Coal in partnership with Durham Wildlife Trust and the City of Sunderland.
Home to Durham Wildlife Trust's headquarters. The visitor centre is open seven days a week from 10am – 4.30pm as is the nature-themed WildPlay area. The centre has a range of facilities including toilets, a classroom, meeting rooms and a coffee shop.
There is an excellent network of accessible pathways linking viewing areas that look across the lakes and wetlands, with areas of grassland and woodland completing the habitats on site.
Although a relatively new site Rainton Meadows has developed into a significant area for wildlife over the last 20 years. The wetlands and grasslands support a wide range of birds and over 200 species have been recorded. Waders such as redshank, oystercatcher, lapwing are regularly seen and also more unusual species such as little ringed plover. All five species of UK owl can be seen at different times of the year and there are good numbers of warblers, finches, tits and farmland birds.
Stoat, weasel, brown hare and roe deer are regularly seen and the wetlands attract numerous dragonflies and damselflies. Butterfly numbers are also high, particularly grassland species.
Exmoor ponies and sheep are used to naturally manage the grasslands during the winter months (all grazing is within fenced compartments) adding to the interest on site.
Environmental designation
Ancient Woodland