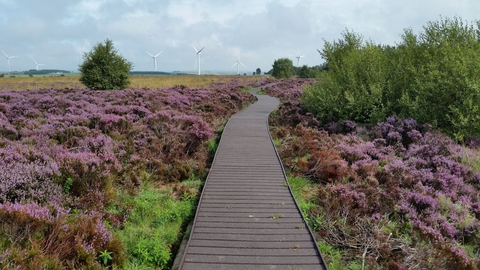 One of the largest examples of mid altitude heathland in County Durham
Know before you go
Grazing animals
Yes
Walking trails
Access
Terrain: Moderate
Mixed terrain with three marked walking trails. Trail one is accessible for those with limited mobility around the top of the Fell.
Access and Parking
The reserve is located east of Tow Law and both car parks can be accessed by turning off the B6301 Tow Law to Cornsay Colliery Road at the top of Hedley Hill. Enter the reserve directly from car parks.
Public Transport
No public transport available at this time. Private transport is recommended.
When to visit
Opening times
Open at all times
Best time to visit
March to July, August to September
About the reserve
One of the largest mid-altitude heathlands remaining in County Durham, Hedleyhope Fell is a mosaic of heather, bilberry, acid grassland, rush pasture, bracken beds, patches of gorse and scattered trees.
Common lizard and slow worm make their home at the Fell as well as twenty butterfly species, including green hairstreak.
Heathland plant life flourishes, including bell heather, cross-leaved heath, crowberry, bilberry, cotton grass and several rarer plants such as petty whin, stags-horn club moss and adder's tongue fern.
The heather provides an impressive display of colour in late summer and autumn.
Bird life includes lapwing, skylark and curlew and the woodland on site supports stonechat and tree sparrow. Several species of owl can also be seen on the reserve.
Hedleyhope Fell is the Trust's largest nature reserve and is well served with car parks and footpaths. The Fell is a common and is grazed by common holder's livestock year round.
Habitat
Environmental designation
County Wildlife Site