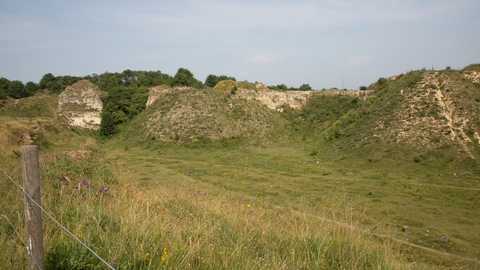 One of the country's most important disused quarry habitats for wildlife
Know before you go
Grazing animals
No
Walking trails
Access
Terrain
Public footpaths around the reserve. Please keep to the marked paths as terrain can be difficult and there are several steep cliff faces.
Access and Parking
The reserve is situated 1km north of Bishop Middleham Village on the minor road to the A177. Parking is available in the roadside lay-by opposite the entrance to the reserve. Enter the reserve through the kissing gate on the roadside.
Public Transport
There is a regular bus service from Durham and Darlington to Coxhoe and Sedgefield.
When to visit
Opening times
Open at all times
Best time to visit
May to September
About the reserve
Abandoned in the 1930s, this former magnesian limestone quarry is a Site of Special Scientific Interest, nationally recognised for the plant life it supports. Unusual species abound on the thin limestone soils, such as blue moor grass, moonwort, autumn gentian and fairy flax, and there are a range of orchid species including pyramidal, common spotted, fragrant and bee orchid, but most significant are the large numbers of rare dark red helleborines. The site attracts large numbers of butterflies such as dingy skipper, common blue, small heath, ringlet, small copper and one of the county's largest colonies of the rare Durham brown argus butterfly, best seen in June and July. There are also many species of moth, such as six-spot burnet, wood tiger and humming bird hawk moth. The quarry attracts both farmland and woodland bird species and is well known as the site where European bee-eaters successfully bred in 2002. Only the third breeding attempt in the UK.
Environmental designation
Site of Special Scientific Interest (SSSI)