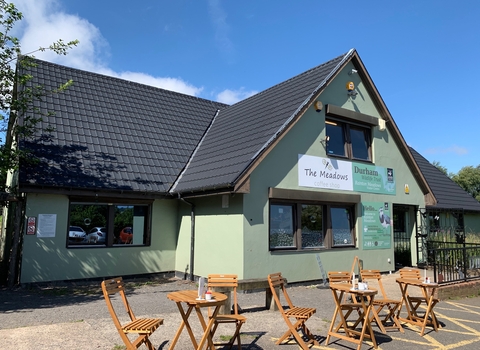 Rainton Meadows
Rainton Meadows Visitor Centre is set within 74 hectares of woodland, wetland and grassland habitats, all of which are linked through an excellent network of accessible pathways and viewing areas. The centre has a WildPlay area for children and is home to the Meadows Coffee Shop, a homely café which serves light lunches as well as delicious home baked treats. Also Durham Wildlife Trust Head Quarters, Rainton Meadows Visitor Centre has a dedicated classroom for indoor events and an outdoor forest school space. Visitors are able to purchase Wildlife Trust gifts and locally sourced products from the Meadows Coffee Shop.
About Rainton Meadows Nature Reserve
Rainton Meadows was created by the restoration of the Rye Hill Opencast coal mine in 1996 by UK Coal in partnership with Durham Wildlife Trust and the City of Sunderland.
The visitor centre has a range of facilities including a coffee shop, classroom, meeting rooms, toilets plus a nature-themed WildPlay area. 
There is an excellent network of accessible pathways linking viewing areas that look across the lakes and wetlands, with areas of grassland and woodland completing the habitats on site.
Rainton Meadows has developed into a significant area for wildlife over the last 20 years. The wetlands and grasslands support a wide range of birds and over 200 species have been recorded. Waders such as redshank, oystercatcher, lapwing are regularly seen and also more unusual species such as little ringed plover. All five species of UK owl can be seen at different times of the year and there are good numbers of warblers, finches, tits and farmland birds.
Stoat, weasel, brown hare and roe deer are regularly seen and the wetlands attract numerous dragonflies and damselflies. Butterfly numbers are also high, particularly grassland species.
Exmoor ponies and sheep are used to naturally manage the grasslands during the winter months (all grazing is within fenced compartments) adding to the interest on site.
New Reedbed at Rainton Meadows
Work is underway to develop a new Reedbed at Rainton Meadows.
Planning your visit
The Nature Reserve is open 7 days a week, including bank holidays. Christmas opening hours are published in December.
Rainton Meadows Nature Reserve
Chilton Moor
Houghton-le-Spring
Tyne & Wear
DH4 6PU
0191 584 3112
Access: 9.30am – 4.30pm
Coffee Shop: 10 am – 4 pm * check the latest covid-19 update here.
WildPlay: 10 am – 4 pm
We're dog friendly! Well behaved humans & dogs are welcome inside our Visitor Centre and Coffee Shop.
Access to Rainton Meadows Nature Reserve and Visitor Centre is free but non-members are asked to make a donation for car parking.
For details about hiring Rainton Meadows Visitor Centre for your event, please visit our Room Hire section.