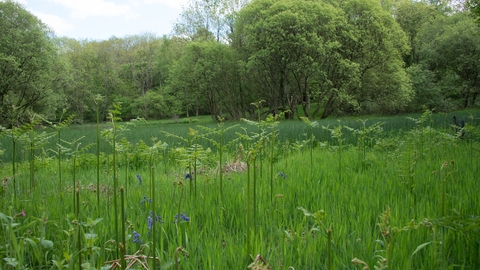 A mixed deciduous woodland situated on an ancient woodland site
Know before you go
Grazing animals
No
Walking trails
Access
Terrain: Moderate
Some steep unsurfaced paths unsuitable for those with mobility challenges.
Access and Parking
The reserve is situated west of Edmondsley and there is a small car park 800m east of Edmondsley crossroads on the minor road to Holmside. Leave the north east corner of the car park and follow the footpath for approximately 100m before entering the reserve through a stile.
Public Transport
A regular bus service operates between Durham and Edmondsley.
When to visit
Opening times
Open at all times
Best time to visit
April to July
About the reserve
Quietly secluded, this mature deciduous woodland is a mix oak, ash, silver birch, hawthorn, holly, rowan and abundant hazel coppice stools.
On the northern boundary, the shallow Cong Burn provides wet woodland rich in alder trees.
There is a wide range of flora across the site, from bluebells to broad leaved helleborine and marshy areas where meadowsweet is abundant.
Mosses and ferns grow in wet gullies and the large adjacent large reed bed (created in 1999 by the Coal Authority and DWT) purifies mine water from the workings of the former Edmondsley Colliery before it flows into the burn.
An ancient woodland site, Edmondsley Wood is part of the woodland corridor that runs along the steep Cong Burn Valley, making it an ideal starting point for a woodland walk. Spring and early summer, when the abundant bird life and wild flowers can be seen together, are the ideal time to visit.
Habitat
Environmental designation
County Wildlife Site