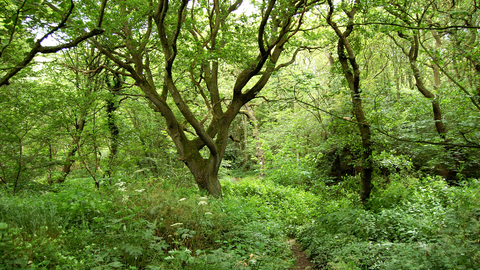 Mixed habitat with grassland, woodland and wetland. Diverse range of wildflowers, butterflies and breeding birds.
Know before you go
Walking trails
Access
Reserve linked with accessible paths from Blaydon Burn via a cycle route.
Barlow Burn is 15 mins from the Metro Centre. Set Sat Nav to NE21 6JN.  There is space for two cars opposite a stile/cycle path entrance sign posted "Greenside – Barlow".  If there is no parking, then go down the hill 100m to a larger area on the right.
To get to the ponds, follow the track/cycle path for about 1.5km, and approx. 50m before you get to the only buildings, follow a less distinct path to your left. This will take you behind the electricity pylon and to the ponds. The ponds are at NZ 156 618 or if you use the "What3Words" app then it is at "durations.tapers.amazed"
This path will take you out of the reserve at the far end, but as the route is not circular, you will need to return the same way.
When to visit
Opening times
Open all hours
Best time to visit
April to August
About the reserve
The site has several blocks of woodland with disused sand quarry habitats including ponds and grasslands. Bog Wood has rich and diverse ground flora unique in Gateshead including globeflower, bogbean, yellow flag, narrow buckler fern and meadowsweet. Streamside vegetation has tall-herb communities with celery-leaved water crowfoot, hairy willowherb, sweet cicely and figwort. Large bittercress, marsh marigold and marsh hawk's-beard is found in wooded areas. The grasslands have considerable botanical interest with sheep's-bit, kidney vetch and bird's-foot growing on bare ground with restharrow, bird's-foot-trefoil and harebell in more closed communities. There are good numbers of butterflies including dingy skipper, wall brown and common blue. The old quarry settling ponds are heavily vegetated with reedmace as the dominant marginal and water horsetail with occasional water plantain and hairy willowherb. Broad-leaved and Canadian pondweed is abundant with smaller amounts of water-starwort. Breeding birds abound include water rail, reed bunting, sedge warbler, grasshopper warbler and little grebe as well as large populations of frogs and toads. DWT took over the management of this site from Gateshead Council in June 2014 and will be continuing the work to develop the area for wildlife.