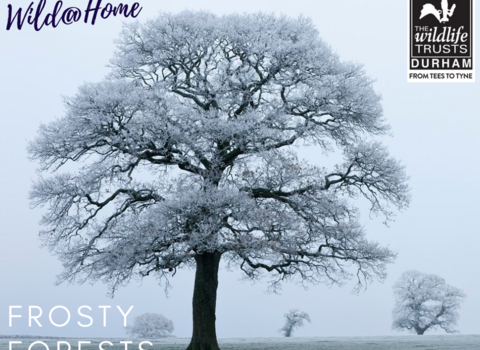 Frosty Forests
As autumn ends, winter sets in and the trees are finally bare of leaves. We looked last month at how animals survive the coldest months of the year, but what about the trees? Freezing cold weather, frozen ground and very little sunlight are challenging conditions for trees, so how do they survive the harshest months of the year, and get ready to spring into life again next spring? Let's take a look!
Discover
Trees in temperate and cooler countries, including the UK, have to survive extremely cold conditions in winter. Deciduous and evergreen trees have different, clever ways of doing this. Read our Frosty Forests Fact Sheet (download below) to find out more.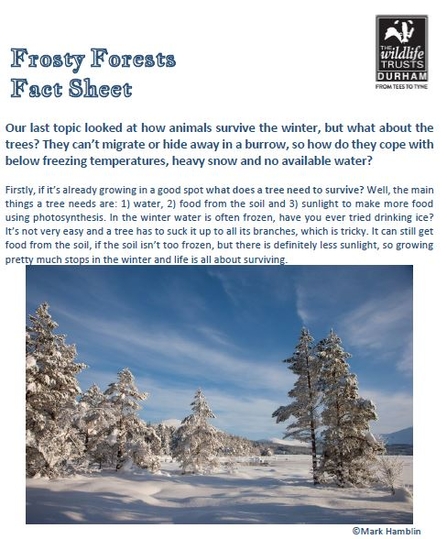 Have a go at this simple freezing experiment and record your results so see how extreme cold affects different types of plants. Do evergreen plants survive the cold better or not?
Explore
This video explains how trees have adapted to survive winter at a cellular level. Older and more able children may follow this, younger children will need an adult to watch and explain. 
Now it's time to pull on your boots, hat and coat, grab a parent and head out for a walk in the woods or in a park. Use our Winter Tree Bud ID Sheet (download below) to identify the deciduous trees you find on your walk. See if you can collect some pine needles - you won't need many - and make your own winter warmer, super healthy, pine needle tea.
Read the How to Make Pine Needle Tea Sheet (download below) before you head out, and don't forget to check www.treeguideuk.co.uk/conifer-key/ to make sure you collect the right things! 
Warning: Stay well clear of yew trees.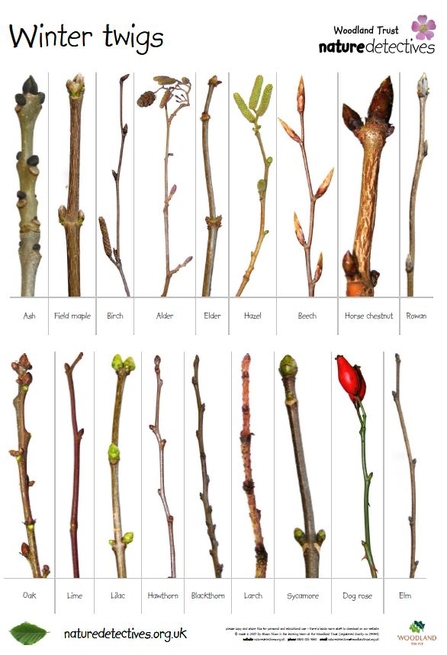 Conserve
Take a look at our Winter Wildlife Friendly Gardening Tips Sheet for some ideas of tree related winter activities you can do at home to help wildlife. 
Create
So maybe you've been for a lovely woodland walk and now have a nice hot cup of pine needle tea to sip on, or maybe today is just too wintery or wet for that walk. Whatever the day is like, let's get comfy and make a Christmassy craft together. Take a look at our Christmas Tree Decoration Craft Sheet (download below) for some great ideas and come up with your very own tree decorations. Enjoy! 
There's also a Tree Wordsearch (download below) to have a go at too.