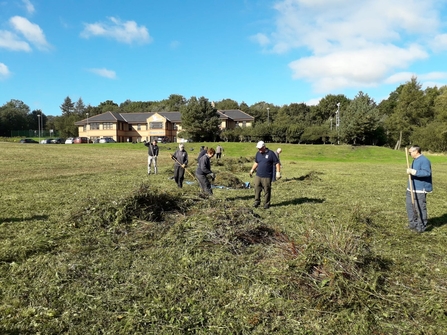 Their manufacturing site in Consett includes about 20 acres of woodland, pastures and wildflower meadows and the company's employees and visitors regularly enjoy seeing deer, rabbits and a wide range of birds and insects. While the team at Thomas Swan know how to make graphene and printing inks, they needed some help from the experts on how to enhance their wildflower meadow and woodlands.
We were delighted that they chose to become a Gold Corporate Member of Durham Wildlife Trust so we can support them with their plans.
In early October 2019, Durham Wildlife Trust volunteers teamed up with employees from Thomas Swan to cut and rake their meadow.
Chris Jones, the Trust's Living Landscapes Officer (North), said: "Without sensitive management, meadows can soon become invaded by more vigorous plants that can overwhelm and replace what is a vital habitat for invertebrates, small mammals and birds.
"An autumn cut allows the grassland plants more opportunity to flower and set seed. After cutting, it is very important to rake off and remove the clippings. If left on, they can smother delicate plants and increase fertility which encourages rank growth at the expense of wildflowers.
"It was a good team effort to get the meadow cut and raked off by the end of the day. The Trust will continue to work with Thomas Swan to ensure they maximise the wildlife interest on their site."
Harry Swan, CEO of Thomas Swan, said: "We believe sustainability means three things: to be a successful company for the long term; to reduce the impact of our operations on our planet; and to look after the people and community.
"Investing in the natural environment around our manufacturing plant to reduce mowing while enhancing wildlife and involving our employees and community is a perfect way to demonstrate sustainability. Everyone benefits. Durham Wildlife Trust membership helps us achieve these objectives."