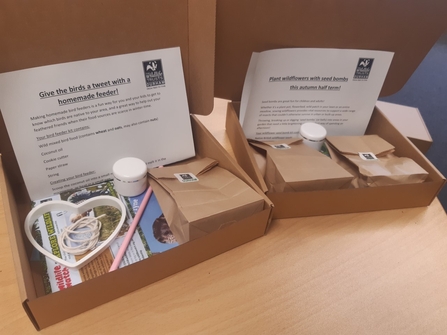 During the autumn, Durham Wildlife Trust used funding from the 3 Towns AAP to create 50 wildlife craft activity packs for families to use during the October half term holiday. The packs contained instructions and all the materials needed to create wildflower seed bombs and homemade shaped bird feeders. Due to COVID-19 restrictions we had difficulty delivering the packs, so Durham Food Bank agreed to include them in food boxes allocated to families living in Tow Law, Willington and Crook.
Kelly Smith from Durham Food Bank said: "The craft boxes were absolutely fabulous and will bring a little piece of happiness into children's lives which is so important in these difficult times.  We are ever so grateful to have received the craft boxes, I especially like the bird feeders so that families can have fun together and enjoy seeing the birds using them, thank you!"
A donation of £187 was made to Durham Food Bank in thanks for their help with the delivery of the packs and the project.