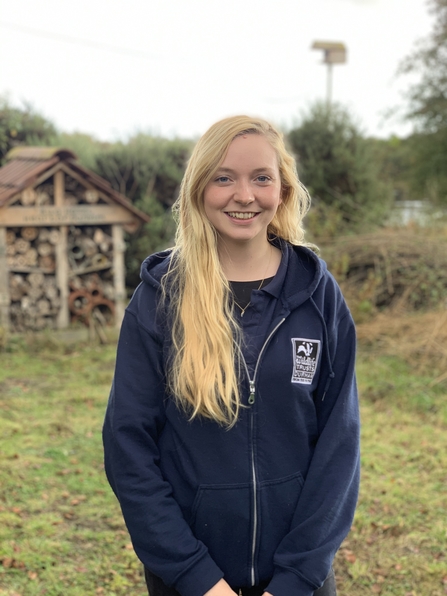 Alison Laing, 23 and from High Shincliffe, County Durham, will support the Trust's Living Landscapes Officers in their work, particularly the management of the Trust's nature reserves and planning and leading volunteer tasks.
Alison comes to the role with a farming background. She was raised on a mixed farm, growing wheat, barley, oilseed rape, beans and oats. The farm also has 400 sheep, sells Christmas trees and grows pumpkins.
Alison, who is a member and Treasurer of Durham City Young Farmers' Club, has always been interested in the countryside and conservation and completed an undergraduate degree in Zoology at the University of Exeter then a Masters degree in Ecological Consultancy at Newcastle University.
She worked as an Assistant Consultant Ecologist based in Birmingham for 15 months, travelling all over the country on large and small-scale projects, including bat, badger, newt and vegetation surveys and supervising contractors doing vegetation clearance to ensure they did no ecological harm.
Of her latest role, she said: "I had wanted to get more experience of hands-on practical conservation tasks and I have been a member of Durham Wildlife Trust for a while. When I saw the vacancy in an email circulated from Young Farmers, I thought my past experience and knowledge would mean I would be a good fit for the role.

"The role sounded like everything I have wanted to do and I will get a lot of experience and training out of this opportunity, including doing training for chainsaw, 4×4, brushcutter, first aid and work experience in environmental education and wildlife surveys as well as the great opportunity to work for an amazing charity such as Durham Wildlife Trust.

"After the 12 months are complete, I hope to have achieved a lot of skills in everything ranging from problem-solving to fencing and organising volunteer tasks. I am very excited for what the next year has in store and all the opportunities it may provide."