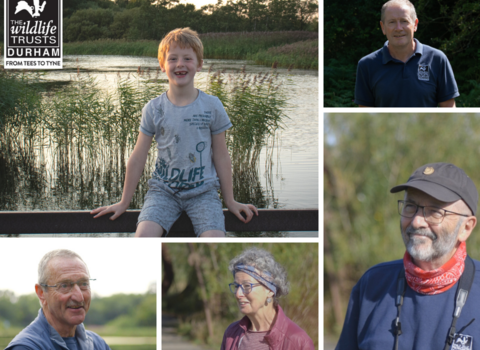 A story writing competition
Durham Wildlife Trust is celebrating its 50th Anniversary and it wants you to share your wildlife stories.
What does wildlife mean to you?
We are looking for stories that share your love of wildlife and how nature has shaped, or even changed your life.
How wildlife changed my life
It could be heartwarming and funny, or perhaps you have found solace in nature at a difficult time. Maybe you met your soul-mate in a bird hide, or stood, stunned, watching a natural spectacle. Whatever your story is, we would love you to share it.
We would like stories from members of all ages, so please let us know your name and age in your submission.
Stories must be submitted electronically and should be no longer than 500 words. You many include up to 3 images as attachments on the email to your entry
Entries will be judged by a Durham Wildlife Trust panel and the winning entry will be printed in the next edition of Wildlife Durham. The winner and two runners up will also be featured on the Trust website.
The winning author will receive a £50 book token, and the two runners up £25 book tokens. The prize winners will also receive a coveted 'golden' Durham Wildlife Trust pin badge!
Closing date for entries is 31st January 2021.
Our stories
Take inspiration for your story from hearing what it means to some of our supporters to be part of Durham Wildlife Trust. 
Mike talks about what he gets out of his links with Durham Wildlife Trust and the importance of the wider Wildlife Trusts movement in joining up wildlife to help conserve it for the future.
From pond dipping and bug hunts to our regular Wildlife Watch sessions for children, young family member Matthew is making the most of Durham Wildlife Trust. Enjoy his enthusiastic take on what wildlife means to him, it'll bring a smile to your face!
Having moved to the area 20+ years ago, Chris has noticed since then the gradual migration of species from further south. She also touches on the vital link between local wildlife and surrounding communities.
Trust member, Ian, tells us how his wildlife knowledge is developing thanks to a combination of time at our nature reserves and our progamme of events. He also notes how vital and successful Durham Wildlife Trust's development of wild spaces has been over the years.
Durham Wildlife Trust volunteer, Paul, tells us about the variety of experiences he enjoys giving his time to work on practical tasks and the importance of volunteers and membership for the future of the Trust.