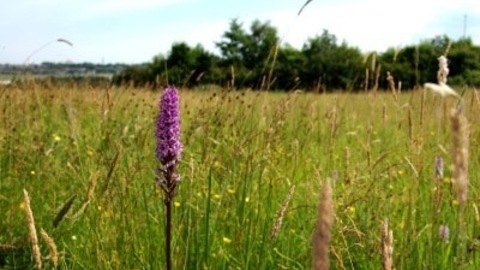 The damp grassland is floristically rich, with a colony of southern marsh orchids being of note.
Know before you go
Access
Terrain: Moderate
Mixed terrain. Good path networks but raised walkways are not suitable for mobility scooters and the meadow has no pathways. Children should be supervised at all times.
Access and Parking
Situated near the A1 and the Metrocentre, the reserve can be reached via the B6317 Swalwell to Blaydon Road. Parking is available at the car park near the old Blaydon swimming baths site. Head north east for 200m to the reserve entrance. A path alongside the railway line - accessed through the industrial estate to the west of the reserve - offers a connecting route between Shibdon Meadow to Shibdon Pond under the A1 dual carriageway.
Public Transport
Buses are available from Neville Street, Newcastle towards Winlaton. Alight at Blaydon and take a short bus journey to Blaydon Baths – Shibdon Pond is a short walk from there.
When to visit
Opening times
All year round
Best time to visit
Spring and Summer
About the reserve
Shibdon Meadow is the last substantial traditionally managed herb-rich permanent pasture in this part of the Tyne Valley.
The damp grassland is floristically rich, with a colony of southern marsh orchids being of note. Typical species of the wet grassland include marsh fox-tail, wild angelica, water plantain and meadowsweet. Herb rich grassland across the site hosts an impressive seventeen species of butterfly and abundant flora such as cuckooflower, yellow rattle and common spotted orchids. A semi-permanent pond at the southern edge of the site contains large amounts of amphibious bistort and breeding frogs in the spring. Great crested newts have also been recorded. Look out for fox and kestrel and even though the site is in urban Gateshead, otters are regularly spotted.
Durham Wildlife Trust took over the management of the meadow from Gateshead Council in June 2014 and will be continuing the work to develop the area for wildlife.